PRIMA
latin: first, f
italian: before
spanish: female cousin
VERA
latin 'ver': spring
italian 'veritas': truth
spanish 'ver': to watch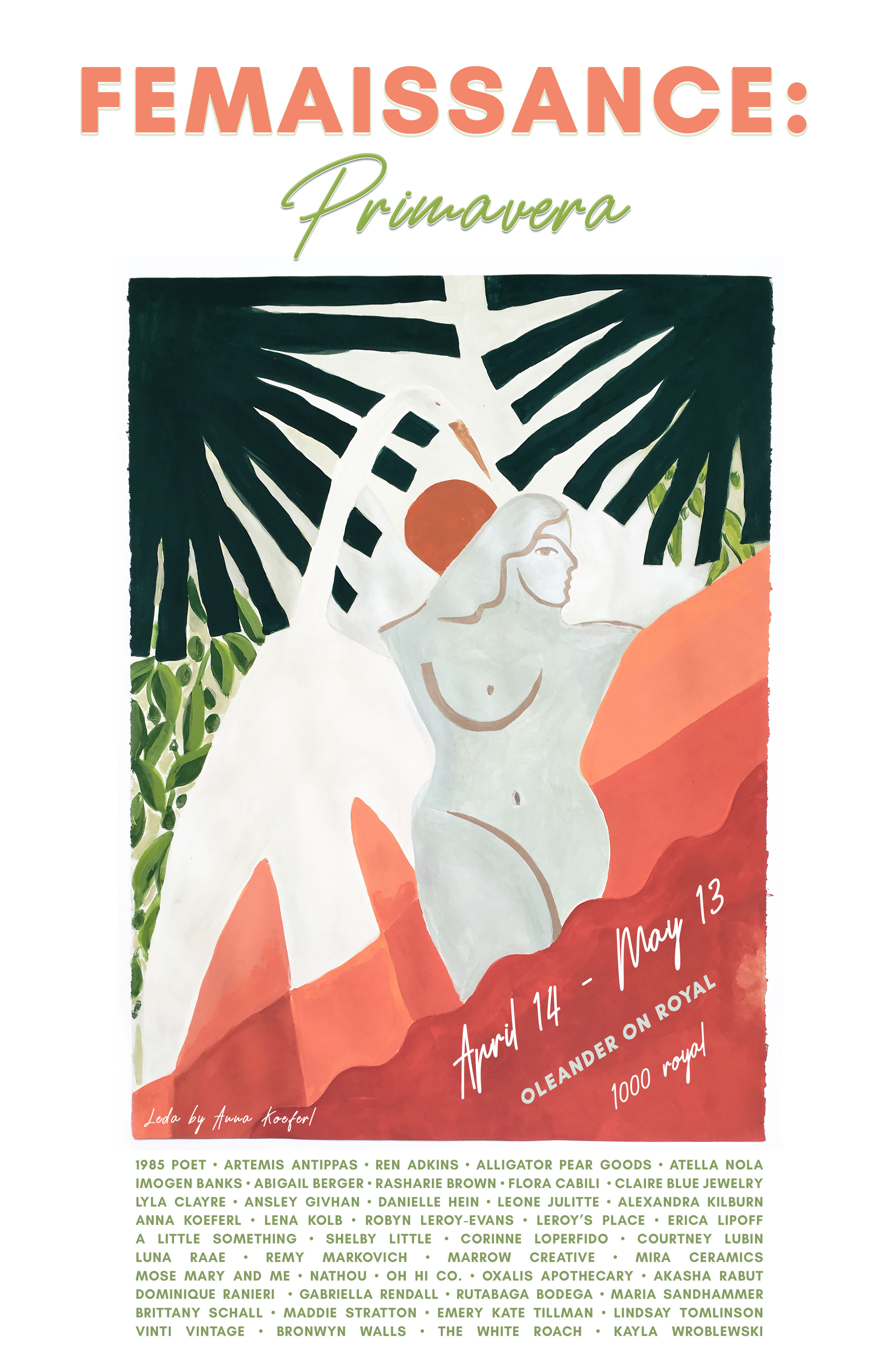 Bigger. Louder. Pinker. Nastier. More.
Primavera celebrates the seeds we've planted and relishes in the beauty around us at this pivotal moment in history.
We look to each other, we look to ourselves, and we look to New Orleans for inspiration, spoken through diverse lenses of womanhood, in our exploration of what it means to be "muse-worthy."
REFLECTIONS:
THREE READINGS OF PRIMAVERA
Femaissance: Primavera, 2018:
An appropriation rooted in artistry, activism & the power of female collaboration.
Sandro Botticelli, Primavera, 1482:
A masterpiece with a narrative worth re-directing.
Femaissance: Primavera looks to Botticellis' work as a masterpiece with a narrative worth re-directing, and seeks to redefine what it means to be "muse-worthy." Set against the backdrop of Springtime in the tropics of New Orleans, Primavera celebrates the moment of activism that has flourished through dozens of works by 50+ participants.
So why Primavera? As an emblem of the Renaissance, the painting represents a pivotal time when the movement was also in full swing, when Florence was a hotbed for artists, and when the philosophical tenant of Humanism fostered a culturally and morally-inspired way of life. Botticelli's painting is beautifully complex, at once celebrating the natural splendor of the female form while flagrantly objectifying its subjects. For Femaissance, we view Primavera as a masterpiece with a narrative worth redirecting. Our exhibition aims to expand upon the narrative by celebrating diverse womanhood, mother nature, and the unique vibrance of our city.
Our choice to focus on Primavera as our core theme is also intended to reflect the current position of Femaissance. Following our first exhibition, we felt as though we had planted seeds and merely scratched the surface in what was the beginning of this project, and in the midst of the exponentially increasing Feminist movement across the country. As our show came to an end, #MeToo paved way for #TimesUp, women marched in every city across America on January 20, groups gathered and started taking action. We multiplied. We evolved. With the opportunity to curate another Femaissance, we couldn't help but feel like all the seeds we planted were rapidly growing into this beautifully robust army of feminism, activism and artistry. Now that is worth a 6-week festivity.
"Conceived as a part of Femaissance: Primavera in collaboration with Femaissance co-creator and curator Madeline Rose and photographer Kelsey Campion, and inspired by Botticelli's Primavera and the muse-worthy women of New Orleans, this original watercolor diptych by Lyla Clayre is an homage to the flourishing of female creativity and community."
April 21, 2018
photos coming soon
Ren Adkins, Marrow Creative, Rasharie Brown, Ariana Anhalt
photos coming soon